Same Day Crowns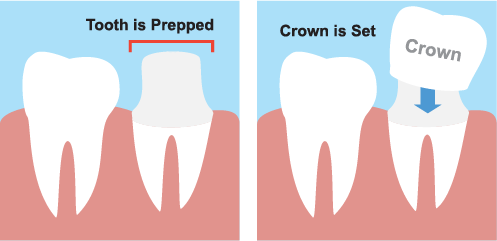 A crown is a permanent covering that fits over an original tooth that is either decayed, damaged or cracked. Crowns are made of a variety of different materials such as porcelain, gold, acrylic resin or a mix of these materials. Porcelain generally has the most natural appearance, although it is often less durable.

CEREC® technology allows us to use digital imaging and modern computer technology to create your crown from a solid block of ceramic right in front of your eyes, carefully matching the shade of the ceramic to the shade of your own teeth so that your crown will blend in beautifully.
Once the procedure is completed, proper dental hygiene, including daily brushing and flossing, is required to maintain healthy, bacteria-free teeth, gums and crowns. This helps in the prevention of gum disease and decay. Given proper care, your crowns can last a lifetime.
Visit our CEREC® Same Day Crowns page to learn more!
Bridges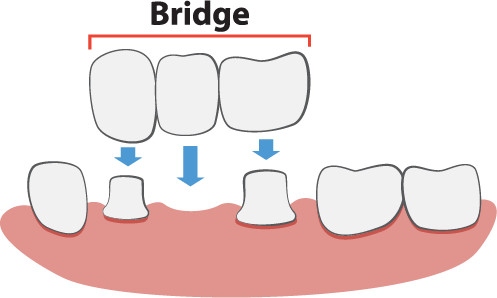 A bridge is a dental device that fills a space that a tooth previously occupied. A bridge may be necessary to prevent:
Shifting of the teeth that can lead to bite problems (occlusion) and/or jaw problems and resultant periodontal disease.
Bridges safeguard the integrity of existing teeth and help maintain a healthy, vibrant smile.
There are three main types of bridges:
The Fixed Bridge is the most popular and consists of a filler tooth (or teeth) that is attached to two crowns, which fit over the existing teeth and hold the bridge in place.
The Maryland Bridge is commonly used to replace missing front teeth and consists of a filler tooth (or teeth) that is attached to metal bands that are bonded to the abutment teeth. The metal bands consist of a white-colored composite resin that matches existing tooth color.
The Cantilever Bridge is often used when there are teeth on only one side of the span. A typical three-unit cantilever bridge consists of two crowned teeth positioned next to each other on the same side of the missing tooth space. The filler tooth is then connected to the two crowned teeth, which extend into the missing tooth space or end.
Dentures
If you're missing most or all of your natural teeth, we offer several variations of partials and dentures to fit your needs. Partial dentures leave room for your remaining healthy teeth, so we can conserve your natural teeth for as long as possible. Partial dentures blend in seamlessly with your natural teeth.
We also offer traditional dentures, artfully crafted with precision technology to look, feel and function just like natural teeth. Dentures are typically made from a combination of porcelain and acrylic and will help you regain the ability to eat your favorite foods, speak with clarity, and provide support for lips and cheeks to maintain your facial shape.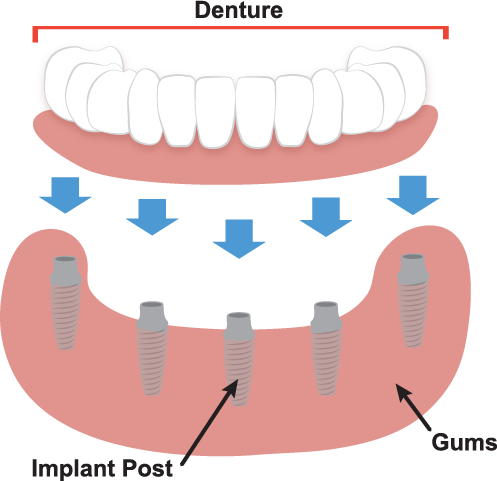 Implant Supported Dentures
If you are a candidate with a healthy jawbone, we highly recommend securing your dentures with dental implants. Partial and complete dentures will typically snap on and off of the abutments on your implants, providing a stable, removable option for replacing the teeth of an entire arch.
In some cases, the doctor may recommend bar-retained dentures. These consist of a metal bar that connects to the implant, following the curve of your jaw. The denture fits securely to the bar with clips, rather than attaching directly to the implants.
All-on-4® Teeth in a Day
Finally, All-on-4® dentures provide a permanently placed restoration for patients who may not have enough bone density to support a traditional set of implant dentures. Dr. Green will place four implants in the front of the jaw, where the bone has the most density. Then she will permanently attach the restoration to the implants. Patients receiving these restorations often report that they are the closest thing to natural teeth.

With All-on-4®, fewer implants mean less time, less money, and faster healing and recovery. With All-on-4®, rather than having to wait several months for the implants to heal, we are able to secure a full arch of stabilizing teeth the very same day the implants are placed. That means you don't have to live without teeth!
Click here to learn more about dental implants and explore your options.
Contact Us
If you have any questions about restorative dentistry, or would like to schedule a visit with your Fort Worth restorative dentist, Dr. Nikki Green or Dr. Robert Leedy at Fort Worth Cosmetic & Family Dentistry, give us a call today or request an appointment online!