Appointments
Your scheduled appointment time has been reserved specifically for you. We request 48 hours' notice if you need to cancel your appointment. We are aware that unforeseen events sometimes require missing an appointment, and we appreciate your cooperation.
Payment Options
FWCFD Membership Plan – We don't want anyone to put off needed dental care because of a lack of insurance or budget concerns. Quality dental care is a necessity, so we've created an in-house Membership Plan to help our patients get the care they need and deserve in a way that's simple and affordable. In many ways, our Membership Plan is even better than insurance!
It is our mission to provide you with affordable, high-quality treatment that fits your budget! We offer a variety of payment options to meet your needs. We gladly accept cash, check and major credit cards as well as flex plans and health savings accounts (HSA).
Our goal is for there to be no financial surprises, so we will explain your options and do our best to accommodate your needs. We also offer a pre-pay courtesy. Save money by paying for your restorative and/or cosmetic treatment in advance at the time of scheduling with cash or check.
Insurance Policy
Our office is committed to helping you maximize your insurance benefits. Because insurance policies vary, we can only estimate your coverage in good faith but cannot guarantee coverage due to the complexities of insurance contracts. Your estimated patient portion must be paid at the time of service. As a courtesy to our patients, we will bill insurance companies for services. If you have any questions, our courteous staff is always available to answer them.
Your insurance policy is a contract between you and your insurance company. Our treatment recommendations are not determined by your insurance coverage. We file your insurance as a courtesy. We may accept assignment of insurance benefits. However, we do require at least your estimated portion to be paid at the time of service. If a balance remains after your insurance pays their portion, any outstanding balance is your responsibility.
We can only file and accept insurance if we have your correct information – it is your responsibility to keep us up to date on your insurance coverage. Please be aware of limitations that may define non-covered, reasonable and necessary fees, and or waiting periods as defined by your particular policy.
Our practice is committed to providing the best treatment for our patients and our fees are usual and customary for OUR office. Our fees are based on the education of our staff, the high quality of materials and labs used, advanced equipment used and procedures performed. Should you accept treatment, you are responsible for payment regardless of any insurance company's arbitrary determination of usual and customary fees or treatment.
Flexible Financial Options
At Fort Worth Cosmetic & Family Dentistry, we believe quality dental care should be affordable and accessible to everyone. That's why we are happy to offer third-party financing options through Compassionate Finance®, CareCredit®,  First Financial and GreenSky Patient Solutions.
We also offer in-house financing on a case-by-case basis.
Compassionate Finance®


Compassionate Finance® is a turn-key, fully managed financing program that helps patients get the care they need, affordably. Applications are processed within seconds, and patients can almost instantly get a down payment to cover hard costs, and set up a flexible payment plan that works with their budget. Don't let financing get in the way of your oral health – ask us about Compassionate Finance® today.
CareCredit®


CareCredit® is one of the leading healthcare credit cards and is accepted at over 175,000 providers nationwide. CareCredit® works just like any other credit card but is used strictly for healthcare expenses, including dentistry. Pay upfront for necessary procedures, and make affordable monthly payments that work with your budget. CareCredit® financing is flexible, convenient, and the application process is simple.
First Financial Bank

Fort Worth Cosmetic & Family Dentistry is proud to partner with First Financial Bank in helping our patients receive flexible financing for dental care. First Financial offers 0% financing so you can get the treatment you need today, and make affordable monthly payments that work with your budget. Apply today!
GreenSky Patient Solutions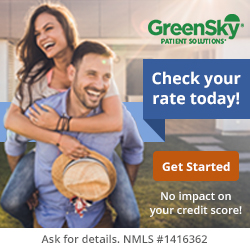 GreenSky® was founded on the idea that payment, credit and commerce could be enhanced using technology and elegant user experiences. A customized lending program from GreenSky Patient Solutions® is a better choice for you. Apply today!
Contact Us
If you have any questions about our practice or our policies or would like to schedule a consultation with your Fort Worth dentist, Dr. Nikki Green or Dr. Robert Leedy at Fort Worth Cosmetic & Family Dentistry, give us a call today or schedule a visit online!