Dental Implants
Replace Missing Teeth & Stabilize Dentures
At Fort Worth Cosmetic and Family Dentistry, 
Dr. Nikki Green
 treats many patients who have lost teeth or need to have their teeth extracted. Some of these patients have replaced their lost teeth with dental restorations such as crowns, bridges, or dentures. These folks may have trouble with crowns that have fallen out or dentures that slip and wobble due to the lack of a stable foundation. Dr. Green understands that these issues can make it very difficult for her patients to smile confidently, and works hard to improve their smiles and their lives with dental implants.
What are Dental Implants?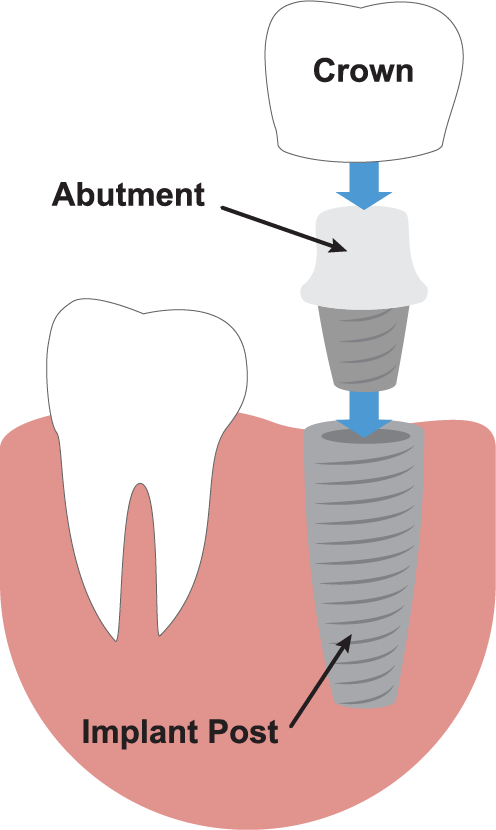 When a patient experiences a problem with a restoration, especially dentures, which can grow unstable over time and slip or even fall out, it often happens because of the deterioration of the jawbone. If you lose one or more teeth due to decay, facial trauma, or gum disease, the area of jawbone where the teeth used to be loses stimulation. The body senses this, and redirects the calcium and other nutrients it used to send there to other parts of your body. Without these nutrients, the jawbone begins to shrink, which causes your restorations to become uncomfortable and lose their snug fit, and can eventually lead to a facial collapse that leaves you with hollow-looking cheeks.
Dental implants, tiny posts made of titanium, are surgically placed in your jawbone to replace the roots of your missing teeth. The posts stimulate the bone, keeping the nutrients from diverting away from the jaw. The implants are biocompatible, so as they heal, they fuse together with the bone, promoting bone growth in the jaw, and providing a sturdy, stable anchor for your new smile.
Types of Restorations
Dental implants can support several types of restorations. Whether you need a single crown or a complete set of dentures, Dr. Green has a solution that will fit you. Each restoration is custom-made, with some permanent and others removable. Dental crowns replace one tooth and the doctor will permanently place them. Dental bridges require permanent placing as well, and can replace several missing teeth in a row.
Partial and complete dentures will typically snap on and off of the abutments on your implants, providing a stable, removable option for replacing the teeth of an entire arch. In some cases, the doctor may recommend bar-retained dentures. These consist of a metal bar that connects to the implant, following the curve of your jaw. The denture fits securely to the bar with clips, rather than attaching directly to the implants.
Finally, All-on-4® dentures provide a permanently placed restoration for patients who may not have enough bone density to support a traditional set of implant dentures. Dr. Green will place four implants in the front of the jaw, where the bone has the most density. Then she will permanently attach the restoration to the implants. Patients receiving these restorations often report that they are the closest thing to natural teeth. With All-on-4® we can often complete the whole process, from dental implants to a new set of teeth the very same day!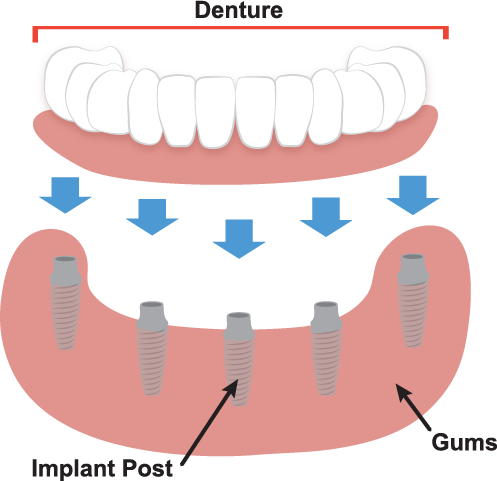 Types of Dental Implants
Dr. Green can place one of three different types of implants in your mouth to anchor restorations. Root implants, plate form implants, and subperiosteal implants are all surgically placed in the same manner, but each provides a solution for a different type of jawbone.
Root Implants – The most commonly placed dental implant, root implants are tiny titanium screws that are surgically placed directly into the jawbone. These implants require good bone density in order to have a secure foundation. With restorations, root implants mimic the size and shape of natural teeth.
Plate Form Implants – When a patient lacks bone density, and the jawbone is too short or narrow for root implants, Dr. Green can place a plate form implant. These implants are long and flat, and the doctor places them under the gums on top of the jaw. During the healing process, the bone will eventually grow around the implant, providing a sturdy foundation for restorations. In some cases, Dr. Green can fit the implant with restorations before the healing process.
Subperiosteal Implants – When the patient does not have enough jawbone available for either of the other types of implant, the doctor can place a subperiosteal implant. This implant is placed under the gums and sits on top of the jaw, essentially acting as an artificial jawbone.
Candidates for Dental Implants
Dr. Green requires patients to attend a consultation visit with her before being approved as dental implant candidates. During this consultation, the doctor will review your current medical and dental history, as well as any medications you currently take and any allergies you may have to anesthesia. She will perform a comprehensive oral exam, focusing on your jawbone and gums.
Ideal candidates will have good bone density to provide a solid foundation for the implants, and an adequate amount of healthy gum tissue to aid in the healing of the implants. Patients with low bone density in their jaw may need to undergo a bone graft surgery before root implants can be placed, unless the doctor decides they can support one of the other types of implants.
Placing Dental Implants
When Dr. Green has decided that you make an ideal candidate for implant surgery, she will create a custom treatment plan for you, covering everything from the type of anesthesia she will use to your aftercare plan. She will take 3D images of your mouth, which she will use to design your new restorations. Then the doctor will perform any necessary extractions and set the date for your first of two surgeries.
When you arrive on the day of your surgery, our warm, friendly staff will make sure you are comfortable and begin the administration of anesthesia. When you have been sedated, Dr. Green will begin surgically placing the tiny titanium posts in your jaw. The number of implants placed will depend on the number of teeth needing replacement.
One implant will support a crown, but it may take as many as four to six implants per arch for a complete set of dentures. When the doctor has placed all of the implants, she will provide you with a temporary restoration to wear while they heal. Healing typically requires three to six months, with the implants hidden under your gums while the bone fuses with them. During the healing phase, you should plan to eat soft foods, to make sure the implants stay securely in place.
While you heal, Dr. Green will use the 3D images she took to create a model of your mouth. She will use this model to design your new restorations. The model will be sent to our offsite lab, where certified technicians will fabricate your restoration. When your implants have fully healed, you will return for your second surgery. At that time, the doctor will expose the implants from underneath the gums, and attach tiny connectors, called abutments, to the head of each one. She will place your new restoration, checking for proper fit and occlusion. When the doctor finishes making any necessary adjustments, you will be free to go and show the world your brand new smile.
Contact Us
If you would like more information about dental implants, call our Ft. Worth, TX dental office today at (817) 653-8859 to schedule a consultation with Dr. Green.